When a mechanical seal isn't operating as expected, or even if there is a total failure, repairing the seal may be an option. As a quick reminder, mechanical seals seal a machine's rotating shaft, such as a pump or a compressor, to prevent leaks.

TYPES OF MECHANICAL SEAL COMPONENTS
There are several mechanical seal types: standard, balanced, unbalanced, cartridge and mixer seals, (link to all respective pages). Mechanical seal designs range from simple, single springs to complex cartridge seal designs.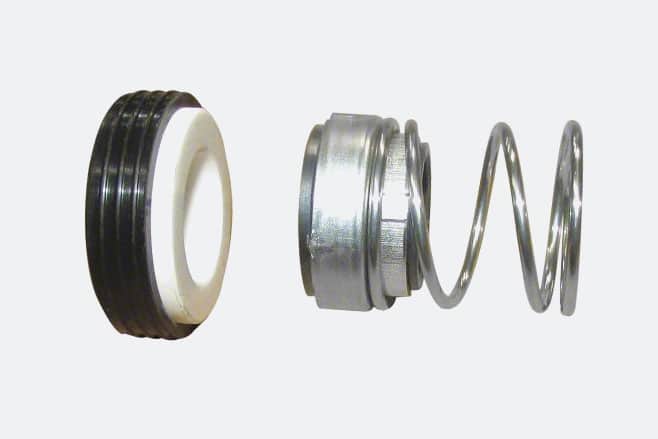 WHEN IS IT TIME FOR A MECHANICAL SEAL REPAIR?
Wear and tear is one of the most common causes of mechanical seal failure.
Considering how hard a pump works, it isn't surprising that the mechanical faces can become worn or damaged, leading to leaks. In some cases, the wear may be caused by a lack of lubrication, improper installation, or incorrect seal type. In other cases, the seal may be damaged by debris, corrosion, or other factors outside of the pump.
MECHANICAL SEAL REPAIRS
Several methods can be used to repair a mechanical seal. In some cases, it may be possible to repair the seal by replacing the worn or damaged parts. Here is one example, if the seal is worn, it may be possible to replace just the sealing surfaces or other components to get the pump up and running without any leaks. In other cases, more extensive repairs might be needed, and such repairs as re-machining the seal can restore the seal's proper dimensions still out needing to replace the seal. However, in some situations, entirely replacing the seal is the only option.
REPLACEMENT MAY BE
THE BEST MECHANICAL SEAL FIX
There will be situations when replacing the mechanical seal is the only viable option. If a seal can not prevent leaks after following the repair steps above or if it is severely damaged then you will want to replace the seal. When replacing a mechanical seal, use a seal compatible with the machinery and the specific pump processing environment. Platinum Performance Products has an inventory of mechanical seals and our experts can help you determine the right seal for your application.
MECHANICAL SEAL REPAIR TYPE
Mechanical seals are critical components of pumps, compressors, and other industrial equipment. Over time, these seals can become damaged or worn, leading to leaks and decreased performance. Fortunately, there are several types of mechanical seal repairs available to address these issues and ensure reliable equipment operation. From basic repairs to major overhauls, refurbishment, and conversion, each repair type has its own specific purpose and scope.
Basic repairs are typically done to address minor issues, such as scratches or nicks in the seal faces, without the need for extensive disassembly. These repairs are generally quick and relatively inexpensive and are designed to improve the performance of the seal.
Major repairs involve a more extensive process, such as disassembling the seal and replacing damaged components. This type of repair is typically necessary when the seal has suffered significant damage or wear and tear.
Refurbishment involves taking a used mechanical seal and restoring it to like-new condition. This process can involve a range of repairs and upgrades, including replacing worn or damaged components, re-polishing the seal faces, and upgrading the seal materials to improve performance.
Conversion involves taking an existing mechanical seal and modifying it to meet the requirements of a different application. This process may involve changes to the seal materials, seal face configuration, or other components to ensure that the seal can operate reliably in the new application.
PLATINUM PERFORMANCE PRODUCTS FOR MECHANICAL SEALS FOR PUMPS
At Platinum Performance Products, we understand the importance of providing fast, reliable, and cost-effective repair services. Whether you need a single mechanical seal repaired or have a large number that require repair and maintenance, we have the expertise and on-site resources for your project.
For assistance with your next pump installation project or repair, contact us at team@3ppumps.com.